จำนวนครั้งที่เปิดดูสินค้า : 2012 | ความคิดเห็น: 0
OZEN by Atmosphere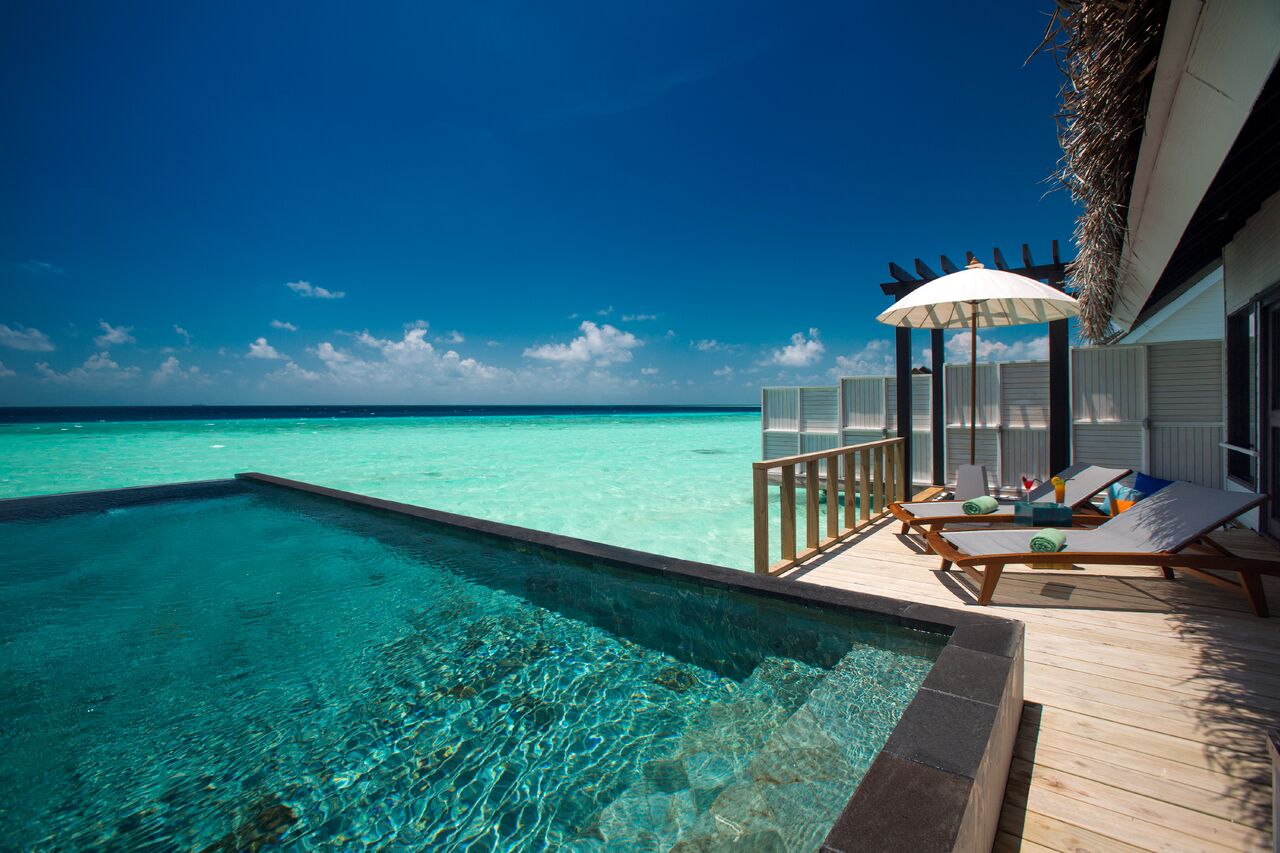 The Prices are quoted in Thai Currency (Baht)
Prices in these packages are for per person (Adult) Twin Sharing room
Special Promotion
1 JUN - 20 JUL 2018
Departure Date

ROOM TYPE

Special Price

3D2N

Special Price

4D3N

1 JUN - 20 JUL 2018

Earth Villa

42,900.00

59,900.00

Earth Villa With Pool

53,500.00

75,500.00

Wind Villa

42,900.00

59,900.00

Wind Villa With Pool

53,500.00

75,500.00
21 JUL – 31 OCT 2018
Departure Date

ROOM TYPE

Special Price

3D2N

Special Price

4D3N

21 JUL - 31 OCT 2018

Earth Villa

45,500.00

63,500.00

Earth Villa With Pool

55,900.00

78,900.00

Wind Villa

45,500.00

63,500.00

Wind Villa With Pool

55,900.00

78,900.00
Room Type
Earth Villa/ Earth Villa with Pool

Wind Villa/ Wind Villa with Pool

เงื่อนไขการเข้าพัก / Condition:
The above rates are not valid for Middle East and Korean market.
ช่วงปกติ รับจองห้องพัก 2 คืน ขึ้นไป / Minimum stay 2 nights
Packages Include:
ราคานี้ เป็นราคาต่อท่าน เดินทางเข้าพัก 2 ท่านต่อห้อง / Price per person base on twin sharing basic
เจ้าหน้าที่ต้อนรับที่สนามบิน Male' / Meet and greeting at Male' International Airport.
ค่ารับส่ง สนามบิน-ที่พัก-สนามบิน ด้วยเรือ Speedboat/ Speedboat Transfer Airport - Resort – Airport
ราคานี้ รวมค่าอาหารเช้า กลางวัน เย็น ทุกมื้อ รวมครื่องดื่ม และ เครื่องดื่มที่มีแอลกอฮอล์ เช่น เหล้า เบียร์ ไวน์ ในบาร์เครื่องดื่มในเวลาที่กำหนดโดยประมาณ 10.00 น. 24.00 น. / All Inclusive Meal Plan: including alcoholic & non-alcoholic drink.
Inclusive of GST Tax, Service charge, Green Tax.
ค่าประกันภัยเดินทาง / Travel Insurance.
Packages DO NOT Include:
ราคาไม่รวมตั๋วเครื่องบินไป-กลับ กรุงเทพฯ-มัลดีฟส์ / Not included retuned ticket to Maldives
รายการอาหาร เครื่องดื่มที่ไม่ได้ระบุในแพ็คเกจ / Any other extra food and drinks that not included in the package
ค่าใช้จ่ายส่วนตัว หรือ ค่าใช้จ่ายอื่นๆ ที่ไม่ได้ระบุใน package เช่น ค่าโทรศัพท์, ค่ากิจกรรม, ค่าซักรีด เป็นต้น/ Other personal expenses that do not include in the package
THE ATMOSPHERE INDULGENCE PACKAGE
Dinind Experiences:
A sumptuous OZEN Breakfast Buffet at The PALMS (Open until 11.00 hrs)
LUNCH: A selection of Light meals & snacks options with a Salad/Dessert Bar/Pizza/Burger/Sandwich to Order, one "LIVE" station with a hot dish selection at THE PALMS
DINNER: Dine-around FINE DINING experiences at THE TRADITIONS – INDOCeylon (Indian, Srilankan & Maldivian specialty Cuisine), THE TRADITIONS – Peking (Specialty Chinese Cuisine) and at The PALMS (International cuisine) – *** Dinner to be Pre-booked by 11.00 hrs of the day concerned. A Selection of snacks/ Pizzas through the day at JOIE de VIVRE – the Pool & Activity complex
Beverages:
Premium selectiona at The PALMS, Joie de VIVRE, THE TRADITIONS – INDOCeylon, THE TRADITIONS – Peking, M6m (Selection of Champagnes/ Selection of Whiskeys - All 15-18 year range/ Selection of International beers, lagers & draughts/ Huge Selection of Branded spirit
Over 80 labels of EXOTIC Wine collection from the renowned vineyards of the New & the Old world
Atmosphere INDULGENCE cocktails, Spirits & Beer.
Joie de VIVRE – The pool bar (open from 09.00 hrs until 01.00 hrs)
Activities & Adventure:
Sunset fishing Once per Stay (weather permitting)
ONE Complimentary excursion per guest from a selection of Excursions per stay (weather permitting)
An array of daily organized activities for Children & Young Adults at THE KIDS CLUB
Access to Ozen Gym & Wellness – fully equipped gymnasium, outdoor & indoor recreational activities
Complimentary of non-motorized water sports– Windsurf rental, Catamaran rental, Canoe rental, Stand-up paddle board rental
Unlimited Snorkeling excursions during stay (TWO excursions per day (weather permitting) arranged every day of the week to a selection of 6 nearby snorkeling sites (SHUTTLE TIMES: 09:30 HRS / 15:00 HRS)
Complimentary snorkeling equipment for every guest during stay
Various other activities on a weekly & seasonal basis
Check In / Check Out:
Check in: 14.00 hrs. (เช็คอินช่วงเช้าได้ ในกรณีมีห้องพักว่าง) / Early check-in: possible when room is available.
Check out: 12.00 hrs.
Cancellation Policy:
45 วันก่อนเดินทาง: หักค่ามัดจำ 50% ของราคาห้องพักที่จองเข้าพักรวมทั้งหมด / 45 -31 Days before arrival: cancellation charge 50%.
30 วันก่อนเดินทาง: เสียค่าบริการ 100% ตามราคาห้องพักที่จองเข้าพักรวมทั้งหมด / 30 days before arrival: cancellation charge 100%.
ยกเลิกกระทันหัน: หรือ พักไม่ครบตามที่จองไม่สามารถเรียกเงินคืนได้ / No show & early departure from the resort : charge 100%.
For reservation, please contact 081 701-0091 or 02 538-1374