จำนวนครั้งที่เปิดดูสินค้า : 10782 | ความคิดเห็น: 0
Club Med Finolhu Villas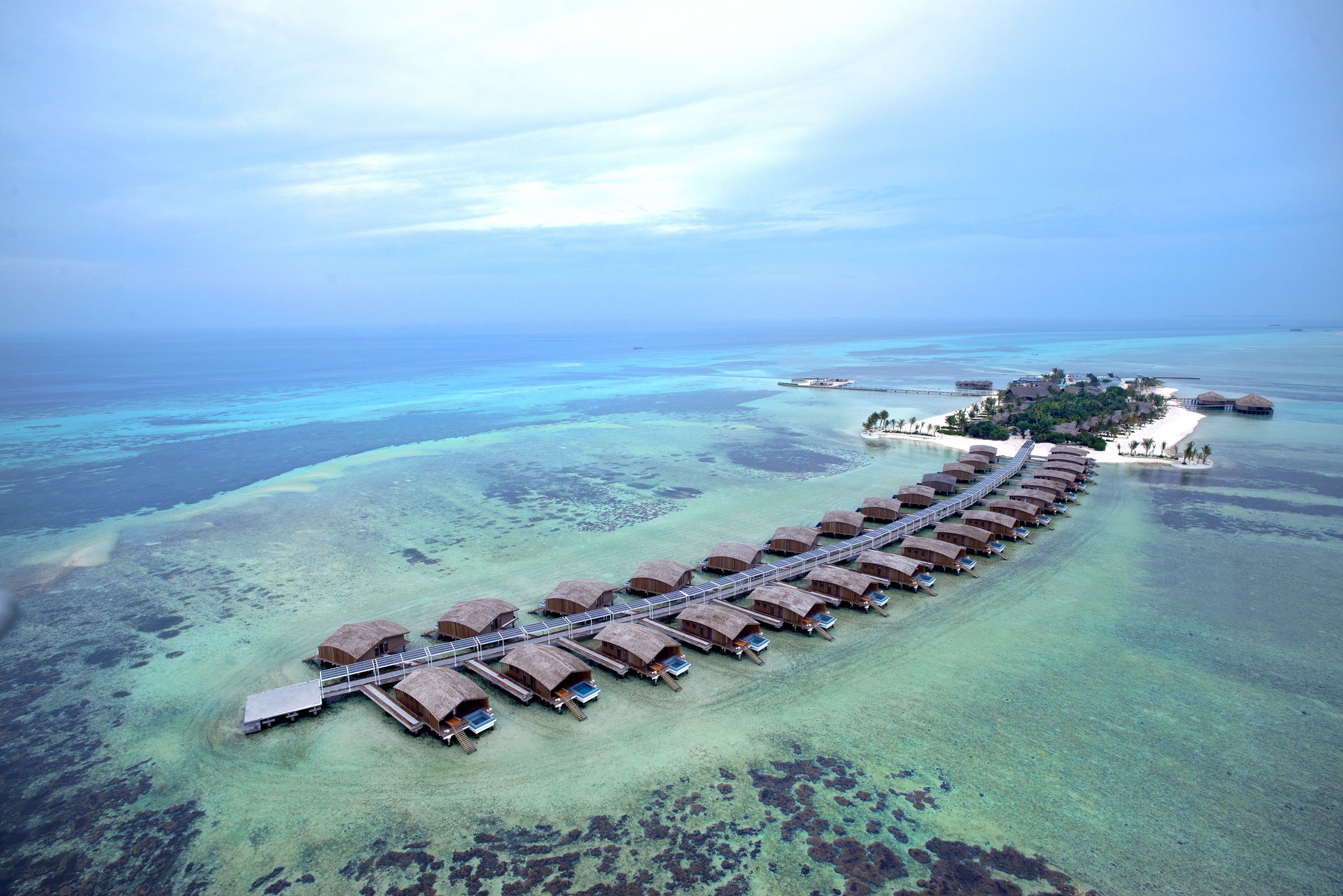 Club Med Finolhu, Maldives เป็นรีสอร์ท 5 ดาว ที่มีการสอบถามแพคเกจกันเข้ามามากมายอีกหนึ่งรีสอร์ทเลยค่ะ เนื่องจาก Club Med Finolhu โดดเด่นในเรื่องของการออกแบบและการตกแต่งห้องพักในสไตล์โมเดิร์น ทุกห้องมี Pool ส่วนตัว แพคเกจเป็นแบบ All Inclusive ที่นี่เป็นอีกรีสอร์ทที่เหมาะสำหรับคู่รักในการมาท่องเที่ยวมัลดีฟส์ค่ะ

Club med Finolhu ตั้งอยู่บริเวณมาเล่ อะทอลล์ การเดินทางไปยังรีสอร์ทใช้เวลาประมาณ 40-45 นาที โดยสปี๊ดโบ๊ท ท่านใดที่กำลังมองหารีสอร์ทหรูที่ค่อนข้างมีความเป็นส่วนตัว Club Med Finolhu ก็เป็นอีกตัวเลือกที่น่าสนใจค่ะ
The Prices are quoted in Thai Currency (Baht)
Prices in these packages are for per person/ Twin Sharing room
Club Med Finolhu Villas, Maldives
Booking by 30 Dec 18
3DAYS 2NIGHTS AIR PACKAGE WITH AIR ASIA (FD)
Departure: FD177 BANGKOK-MALE 09:30-11:40 Return: FD178 MALE-BANGKOK 12:30-19:00
Date of Travel

Room Category

Room + Air Package

Air Asia (FD)

Adult

Teenager

15-17 Feb 19

Sunrise Beach Villa

58,200

50,700

Sunset Beach Villa

60,600

52,700

Sunrise Overwater Villa

67,300

-

Sunset Overwater Villa

74,200

-

22-24 Feb 19

1-3 Mar 19

8-10 Mar 19

15-17 Mar 19

29-31 Mar 19

Sunrise Beach Villa

57,600

50,200

Sunset Beach Villa

60,000

52,700

Sunrise Overwater Villa

66,600

-

Sunset Overwater Villa

73,400

-

8-10 Mar 19

15-17 Mar 19

29-31 Mar 19

Sunrise Beach Villa

55,200

47,800

Sunset Beach Villa

57,200

49,600

Sunrise Overwater Villa

66,600

-

Sunset Overwater Villa

73,400

-

5-7 Apr 19

Sunrise Beach Villa

58,600

53,600

Sunset Beach Villa

60,600

55,600

Sunrise Overwater Villa

70,000

-

Sunset Overwater Villa

76,800

-

6-8 APR 19

Sunrise Beach Villa

58,200

51,400

Sunset Beach Villa

60,400

53,200

Sunrise Overwater Villa

69,800

-

Sunset Overwater Villa

76,600

-
*** ตั๋วชุดนี้ เป็นตั๋วเดินทางแบบหมู่คณะ ซึ่งจะถูกจัดเรียงที่นั่งมาจากสายการบินแอร์เอเชียร์ ทางคลับเมดจะไม่สามารถคอนเฟิร์มให้กับลูกค้า ที่ต้องการนั่งติดกันได้ ซึ่งหลังจากออกตั๋วแล้วนั้น ลูกค้าท่านใดที่ประสงค์ ต้องการ นั่งติดกัน สามารถแจ้งกับทางคลับเมด เพื่อเปลี่ยนแปลงที่นั่งและ มีค่าส่วนต่างในการเปลี่ยนแปลง ***
Cost inclusion :
2 nights accommodation with Air Asia
Roundtrip airport transfer by speedboat
All meals are international fusion food
Unlimited flow of alcoholic and non-alcoholic drinks, wines, cocktails, fresh juices served in all day bar with finger food & light meals (excludes premium spirits, bottled wines & champagnes)
Host of land & water sport facilities (specific to resorts) with tuition and equipment
Daily evening entertainment; cinema under the stars, live music, dance & beach events
Personalized service – Villa Host (butler)

Booking Terms & Conditions :
Offer and package prices are valid for a minimum of 2 adults traveling together and applicable for a minimum 2 nights stay.
Welcome guests from 18 years stay in Overwater villas &12-17 years stay in Beach villas
Villa with panoramic view is 10%surcharge
All payments made are non-refundable and non-transferable
This package is not valid for Group travel
Confirmation is subject to availability. Offer cannot be used in conjunction with any other promotions
Club Med Finolhu Villas, Maldives
SONGKRAN !!! Super Splash !!!
Booking by 30 NOV 18
3DAYS 2NIGHTS AIR PACKAGE WITH AIR ASIA (FD)
Departure: FD177 BANGKOK-MALE 09:30-11:40 Return: FD178 MALE-BANGKOK 12:30-19:00
Date of Travel

Room Category

Room + Air Package

Air Asia (FD)

Adult

Teenager

13 - 15 APR 19

On top discount 6000 THB*มีจำกัด

Sunrise Beach Villa

63,300

55,900

Sunset Beach Villa

65,700

57,900

Sunrise Overwater Villa

72,300

63,100

Sunset Overwater Villa

79,100

68,700

15 - 17 APR 19

Sunrise Beach Villa

60,100

52,700

Sunset Beach Villa

62,500

54,700

Sunrise Overwater Villa

69,100

59,900

Sunset Overwater Villa

75,900

65,500
SONGKRAN !!! Super Splash !!!
Booking by 30 NOV 18
4DAYS 3NIGHTS AIR PACKAGE WITH AIR ASIA (FD)
Departure: FD177 BANGKOK-MALE 09:30-11:40 Return: FD178 MALE-BANGKOK 12:30-19:00
Date of Travel

Room Category

Room + Air Package

Air Asia (FD)

Adult

Teenager

12 - 15 APR 19

Sunrise Beach Villa

81,800

70,700

Sunset Beach Villa

85,400

73,700

Sunrise Overwater Villa

95,300

81,500

Sunset Overwater Villa

105,500

89,900

14 - 17 APR 19

Sunrise Beach Villa

78,900

67,800

Sunset Beach Villa

82,500

70,800

Sunrise Overwater Villa

92,400

78,600

Sunset Overwater Villa

102,600

87,000
Cost inclusion :
3 Nights & 2 Nights accommodation on twin sharing basis
Round trip economy air ticket
Roundtrip transfer by speedboat between airport and Club Med resort
All meals on international buffet
Unlimited flow of alcoholic/ nonalcoholic drink, wines, cocktails, fresh juice served in all day bar with finger food & light meals (exclude premium spirits, bottled wines & champagnes)
Extensive land and water sporting facilities with expert tuitions
Club Med signature evening entertainment by multicultural G.O. team
Booking Terms & Conditions :
For reservation, please contact 081 701-0091 or 02 538-1374